Septic Pump Out Services
WHEN IT'S TIME FOR SEPTIC PUMP OUT
A septic service specialist should inspect the average homeowner septic system at least once every three years. Septic tanks in homes are usually pumped every three to five years. Electrical float switches, pumps, and mechanical components in alternative systems should be tested frequently, at least once a year.
The frequency of septic pumping is influenced by four primary factors:
Size of the family
The total amount of wastewater produced
Solids in wastewater volume
Size of a septic tank
A T-shaped outlet in your septic tank prevents sludge and scum from exiting the tank and migrating to the drain field. Your tank has to be pumped if the bottom of the scum layer is within six inches of the bottom of the outlet, or if the top of the sludge layer is within 12 inches of the outlet.
SEPTIC PUMP OUT SERVICES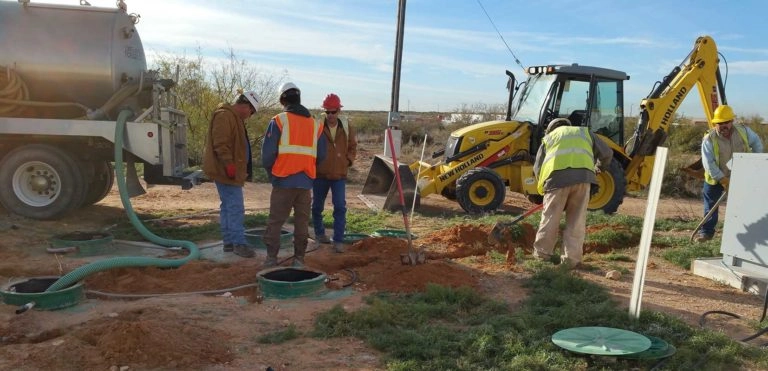 R & R Equipment Rentals has been serving this industry for more than 40 years. We are a septic service company that provides a broad range of services. We can design, build, troubleshoot, service, and pump your septic tank and system to your specifications. The cost of a septic system varies by location, depending on soil characteristics and daily usage. In Midland, Odessa, Andrews, Monahans, Fort Stockton, Pecos, Alpine, Crane, Kermit, Mentone, and Coyanosa, we are busy building, servicing, and pumping septic tanks.
Nothing is worse than an overflowing septic tank with guests arriving in a couple of hours. Our skilled technicians specialize in septic tank pumping for both anaerobic and aerobic systems. To service your septic systems, we have the appropriate septic vacuum truck. Our service technicians are well-versed in servicing large commercial operations, oil and gas sites, residential homes, and remote locations that can only be reached by 4×4 vehicles.
AREA WE SERVE
We are busy installing, designing, inspecting, and septic pumping for the following locations:
R & R Construction can help with your septic tank issues. Our waste specialists will assess the problem, pump out and clean out your septic tank. We provide septic services for residential and commercial properties.
We have perfected our waste removal services in these areas. We are happy to offer industry-leading, reliable services for waste removal.